HISTORY
U Hla Tun
CPA, DHL, EPSF (Class I), EPFA (Class I)
Founder and Benefactor
U Hla Tun Hospice (Cancer) Foundation
1922-2006
Born in Mandalay on December 20th, 1922. Third child of Construction Engineer (U Hla Pe and Daw Saw). Matriculated in 1940 with distinctions in mathematics and additional mathematics from Saint Peter's High School, Mandalay. Mandalay College 1940-42, Intermediate of Science (final) when the war broke out. First places in academic and athletic fields. Selected Soccer XI, Upper Myanmar.
In 1948 trained with Allan Charlesworth Company, the largest British firm of Chartered Accountants since 1911. In 1952 took first place at Registered Accountant Examination. In 1960 took over the English firm and renamed it "U Hla Tun Group", Certified Public Accountants and Financial Consultants. It is a large practice spreading over 50 years to date, which include elite clients viz the Union Bank of Burma, Government Boards/ Corporations, State Joint Venture Corporations, Union of Myanmar Economic Holding Large Banks, International Oil Companies such as Total FinaElf, Premier Petroleum, Petronas, Unocal, PTTEP, and Nippon Oil.
A diplomat, 1983 to 1997, Honorary Consul-General both the Kingdoms of Sweden and Netherlands, awarded Knighthood by Queen Beatrice of the Netherlands. In 1999 and 2001 Independence Day Honours List was awarded medal for "Excellent Performance in Social Field (Class 1) and Excellent Performance in the Field of Arts (Class 1)".
In 1998 founded the U Hla Tun Hospice (Cancer) Foundation, in memory of his only daughter who passed away with Leukemia in the United Kingdom. In Year 2000, Yangon Hospice 40 beds In-patient Centre was successfully opened and in year 2003 Mandalay Hospice (a replica of Yangon) 40 beds In-patient Centre was opened. In 2006, November 26, he was peacefully passed away with Heart and Kidney failure at Shwegondine Specialist Centre, Yangon.
Milestones of our Hospices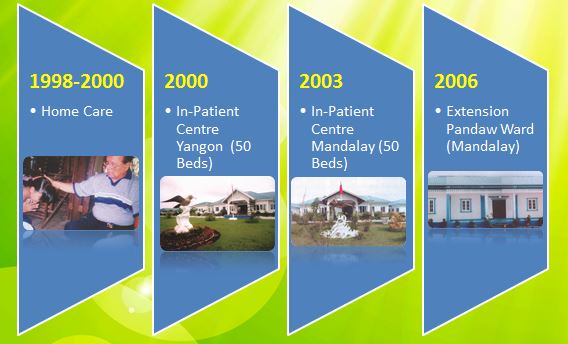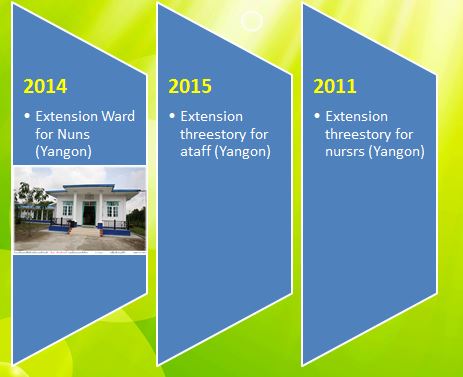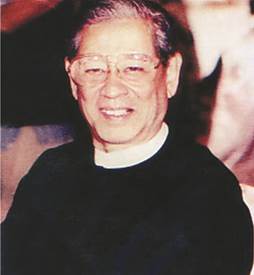 David O. Abel
Former Chairman(2006-2019,Jan)
(Minister / Brigadier General, Retired)
Union of Myanmar
David O Abel is the 4th sibling of 12 children. His father Mr. Alfred T Abel was an engineer in the Burma Railways and his mother Daw Chai a senior school teacher. The roots of family are of Pyin-Oo-Lwin (Maymyo), than the Northern Shan State. He was born in 1935 at Insein as his father was stationed there. During the Secon Second World War the family return to their native town Maymyo. He was educated in the Catholic Missionary School, Saint Albert's in Maymyo and matriculated in 1951. He attended the Mandalay College to study Medicine for (2) years. Due to the internal insurgency he had to leave the College. He was selected to attend the Royal Military Academy, Sand Hurst in the United Kingdom from 1953 to 1956 and graduated in Economics. He served in the Myanmar Army in various positions and retired from the Army with the rank of Brigadier General holding the post of Director General of Procurement until 1991. He also served in the Civil Administration in various Government Departments. He was appointed to serve as Minister of Commerce, Minister of Finance and Revenue, Minister of National Planning and Economic Development and Minister at the Chairman's affair of the State Peace and Development Council. He retired in 2003. During his cabinet positions he founded the Union of Myanmar Economic Holdings, and (12) Joint Venture Companies. He served as Chairman of the Myanmar Investment Commission until 1997.
For his outstanding services both in the Armed Forces and the Civil Administration Sector he was awarded seventeen decorations. His association with the Founder and Patron of Hospice Myanmar dates back to 1951. They were very close friends and worked very closely. This bond of friendship lasted for over 40 years, until U Hla Tun passed away. He married Majr Daw Khin Thein Mu, in 1970. They have no children.
This Forward is a message of Tribute to the Late U Hla Tun, CPA, DHL, EPSF (Class 1), Founder of Hospices in Myanmar. He was a Grand – old – man, loved and respected by whoever came in contact with him. He was a Philanthropist who strongly believed in caring and sharing with humanity. His philosophy was that "Life is a Journey of Humanity" and he stood – up for the poor irrespective of race or religion.
Today we have two Palliative Care Hospice Centers, one at Yangon and the other at Mandalay. Both can cater for fifty patients who are looked after with love and tenderness, when they finally fade away, they fade away with dignity and respect.
This endowment we carry on with dedication and undeterred love.
Our memory is always kept alive by the very remembrance of the "Grand – old – man"
U Hla Tun. He shall always be remembered and respected.
Chairman
Brigadier General David. O. Abel (Retd.)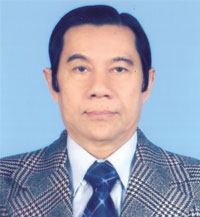 Prof. Dr. Myo Nyunt
Chairman(2019,Jan -> To Date)
M.B.B.S, D.Path (Ygn),
D.C.P (Lond) M.Phil (Lond)
F.A.C.T.M (Aust) Ph.D
I have the honour of knowing Sayagyi U Hla Tun when his only daughter Daw Mya Sandar Tun came to me for haematological investigation and was diagnosed as a case of leukaemia. Sayagyi did everthing he possibly could to save her life including bone marrow transplant in United Kingdom. Unfortunately we lost her.Sayagyi was very much saddened but with his unwaivering determination he managed to overcome his grief and established the U Hla Tun Hospice (Cancer) Foundation.
Since the very beginning of this project we went to see the poorest of the poor cancer patients wherever they may be. I had the privilege to see them together with Sayagyi amounting to two thousand four hundred visits before the in-patient care centre was officially opened on 2nd September 2000 in Yangon Subsequently another Hospice was opened in Mandalay on 15th August 2003.Now we are trying to cater for these patients including extended palliative treatment. I am also trying very best to see that this noble work is carried on with dedication and enthusiasm, now under the guidance of D.O.Abel (Brig.Gen.Retd) All of us are working towards the best possible end of life care for every patient who are the focus of heart of end of-life care. My grateful thanks goes to all those who have contributed their energy, commitment loyalty and support.
Prof.Dr.Myo Nyunt
President
M.B.B.S, D.Path (Ygn),
D.C.P (Lond.) M.Phil (Lond.)
F.A.C.T.M (Aust.) Ph.D